The SAF-T VEST™, invented by an Iron Range orthopedic surgeon, receives a U.S. Patent


MINNEAPOLIS (February 4, 2021)—Jay Davenport's five-year wait is over.

The retired Iron Range orthopedic surgeon began pursuing his novel idea to protect millions of older adults from dangerous fall injuries back in 2016. These were traumatic injuries he often treated surgically in his own practice in Hibbing and Virginia. Now his idea—a wearable technology called the SAF-T VEST—is protected by a U.S. patent.

"Fall injuries are a serious public health crisis," Davenport said. "Getting the patent was a lesson in faith and persistence. There were no guarantees when we filed the application, but we felt it would be crucial to the success of the invention."

Davenport and his son Ryan are co-founders of Davenport SAF-T Systems. The company's patent, no. 10,897,938, will remain in effect until 2038, as long as the start-up continues to pay the required maintenance fees.

A prototype of the SAF-T VEST is in development through a collaboration with the School of Engineering at University of St. Thomas (UST). Ryan, a 1989 graduate of UST, is leading the push to commercialize the invention.
Rather than preventing the fall, the SAF-T VEST, a comfortable lightweight vest, detects a fall in progress with a system of tiny sensors. The sensors then send a signal to a computer which triggers a system of airbags to inflate in a fraction of a second to absorb impact. The bags then rapidly deflate to prevent a bounce-back effect, which can cause a concussion.
"A serious fall can bring terrible, life-changing consequences for senior citizens. A fractured hip or traumatic brain injury could mean surgery, a long and difficult rehabilitation and the end of living independently."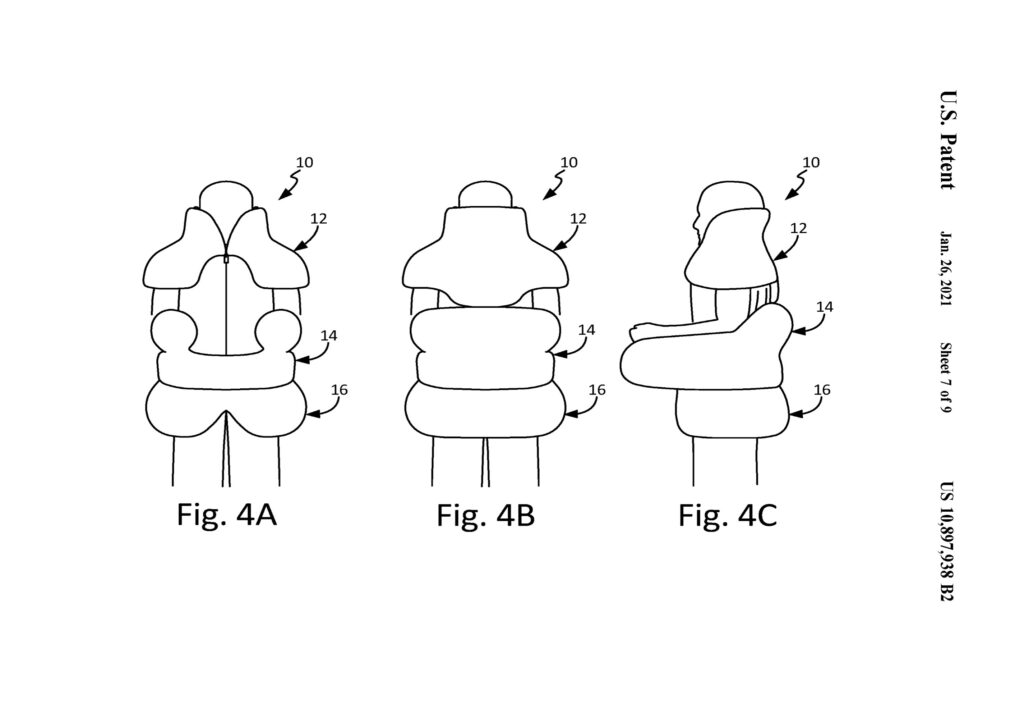 Jay is the first-named inventor on the patent. Nathan Max, an engineer from Lakeville, Minn. is also listed in the patent. Max researched and validated Davenport's design while studying at Iron Range Engineering (IRE) at Mesabi Range College in Virginia. IRE is a four-year satellite program of Minnesota State Mankato.
So far, the Davenports have bootstrapped most of the costs of the development. The goal is to use the prototype to attract private investors, or to secure a grant from the National Institutes of Health.
According to the Centers for Disease Control and Prevention, an estimated three million people in the U.S. are rushed to hospitals each year due to fall injuries. According to the Centers for Disease Control and Prevention (CDC), at least 300,000 older people in the U.S. are hospitalized for hip fractures each year; more than 95% of these injuries are caused by falling. At least one in four adults over 65 fall each year.
Most strategies to reduce fall injuries focus on preventing falls. While laudable, fall prevention efforts have had mixed results.
"It only takes one fall to suffer a life-changing injury," Dr. Davenport said. "Unfortunately, gravity never takes a day off."
The SAF-T VEST is a novel application of existing technology. It is validated by the recent emergence of upper body, wearable airbag systems in use today for high-speed activities including motorcycling and skiing.

Jay Davenport says there are few fall protection systems in existence today. The SAF-T VEST advances fall injury prevention, reduces healthcare costs and helps seniors maintain their independence.
The direct medical cost of fall injuries is more than $50 billion annually when adjusted for inflation. By 2020 the cost could hit $67 billion. In the past decade, the death rate from falls in older adults increased 31%.