Phase two SAF-T VEST ™ milestones build on last year's impressive achievements
ST. PAUL — A new team of University of St. Thomas School of Engineering students has been at it for more than five months, solving a lengthy list of engineering challenges to help a Minnesota start-up get its big idea—using wearable technology to reduce devastating injuries from falls—off the ground.
For example: How do you inflate a donut-shaped airbag in less than half a second? Answer: Fill it with compressed air. Sounds easy.
Turns out, it's much easier said than done.
UST seniors Aaron Fernandes and teammates Houa Chea, Dinesh Nathan and Rahaf Bahajry are hard at work on phase two of a first-generation wearable technology called the SAF-T VEST™. This lightweight "smart" vest, powered by rechargeable batteries, relies on motion sensors, a tiny processor and a system of airbags that will inflate if it detects the user is falling.
Fernandes said the fact that this project could eventually help millions of people avoid devastating injuries from falls makes it more meaningful.
"I also enjoy solving difficult engineering problems," Aaron said.
Exciting finish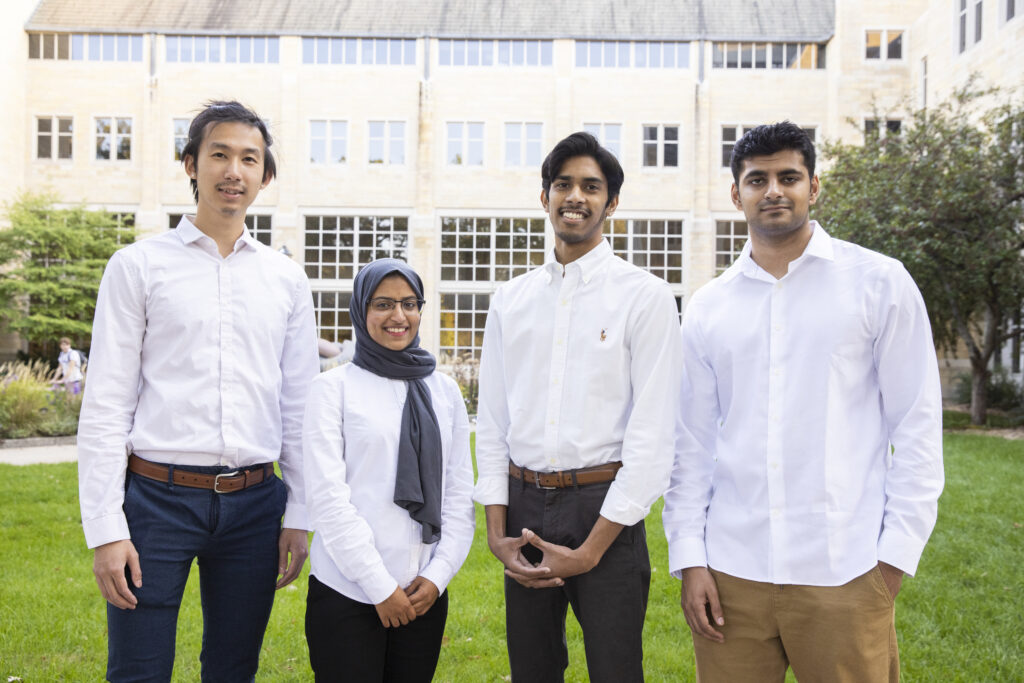 In December, the phase two SAF-T VEST proof of concept will be on display at the annual Senior Design Show. This year's team focused on achieving faster inflation as well as rapid deflation of the vest's forward facing doughnut shaped airbag. This design feature builds on important progress achieved by last year's senior design team and provides critical protection in a forward fall.
Houa and Aaron were tasked with building the actuator. The actuator is a trigger mechanism that punctures the seal of the CO2 canister to release the right amount of gas to fill the airbag in the blink of an eye. They performed air flow rate calculations, which in turn helped them determine how big the canister needed to be, the volume of the airbag and the size of the valve opening. By achieving faster inflation, at just 0.31 of a second, the team overcame one of the bigger engineering challenges.
"My favorite part about this project is the creative freedom I have," Houa said. "I'm also gaining a bunch of knowledge about fall injuries and how CO2 canisters work."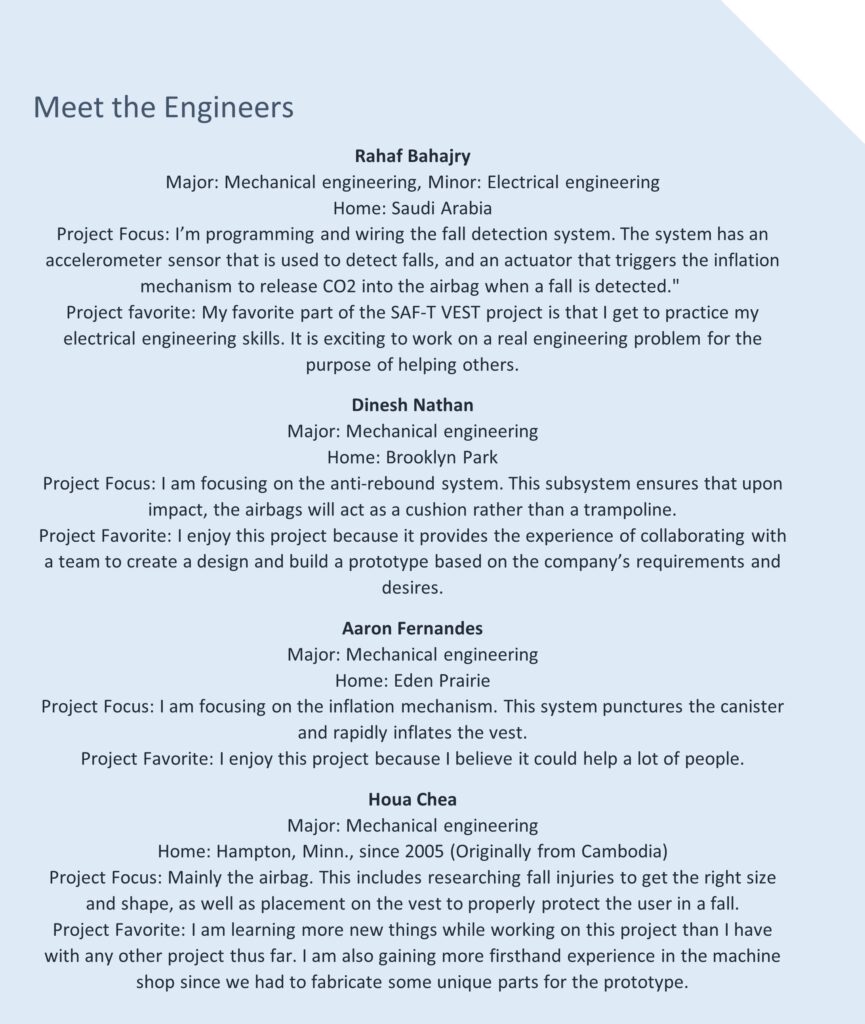 Soft landing
Dinesh and Rahaf focused on another critical requirement —airbag deflation. If the airbag is too firm when it hits the floor, there can be a rebound effect that can cause a traumatic brain injury called contrecoup. Initial tests showed some air diffused through the airbag fabric. But they needed more deflation. They solved this problem by adding just the right amount of tiny holes, allowing more CO2 to escape. By creating a softer, more cushioned landing the SAF-T VEST user is protected from serious injury.
Engineering work on the SAF-T VEST started in 2020, by another talented group of UST engineers. That team successfully integrated the SAF-T VEST power source, the sensors, the microprocessor, and the inflation mechanism.
Ryan Davenport, CEO and Cofounder of Davenport SAF-T Systems says the teams' combined efforts—to demonstrate the feasibility and potential benefits of the SAF-T VEST—will help him make a stronger pitch for more funding from private investors or government research agencies. The company is seeking $350,000 in seed funding to build 3-5 fully functioning SAF-T VEST prototypes. Designed by orthopaedic surgeon Jay A. Davenport, M.D., the SAF-T VEST will provide 360 degree fall injury protection from the hips to the head.
"Once again, I'm so impressed by these incredibly smart, enthusiastic engineers," Ryan Davenport said. "It's been a terrific two-year collaboration and we're beyond grateful. Because they've helped us demonstrate how to solve a $50B public health crisis—by using wearable technology to reduce devastating injuries from falls and help older adults remain active and independent."