ST. PAUL (November 1, 2021) – In his pursuit to build a prototype that could demonstrate the true potential of the SAF-T VEST™, Ryan Davenport was advised to check with the School of Engineering at the University of St. Thomas.
"I should have known," he said to himself.
Davenport, a 1989 graduate of what was then the College of St. Thomas, met five senior engineering majors who were eager to get to work on the project. The school's Senior Design Clinic was a perfect fit for his start-up.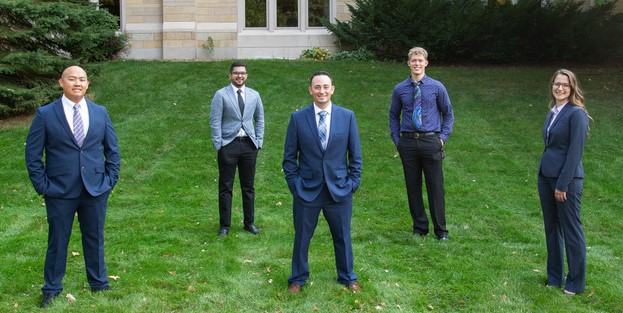 The SAF-T VEST is a "smart" vest designed for older adults at risk for falling. Tiny onboard motion sensors can detect a person's fall in progress. A microprocessor triggers a system of airbags to inflate in a fraction of a second. The airbags absorb the impact of the fall and reduce the risk of injury. Read more about the SAF-T VEST.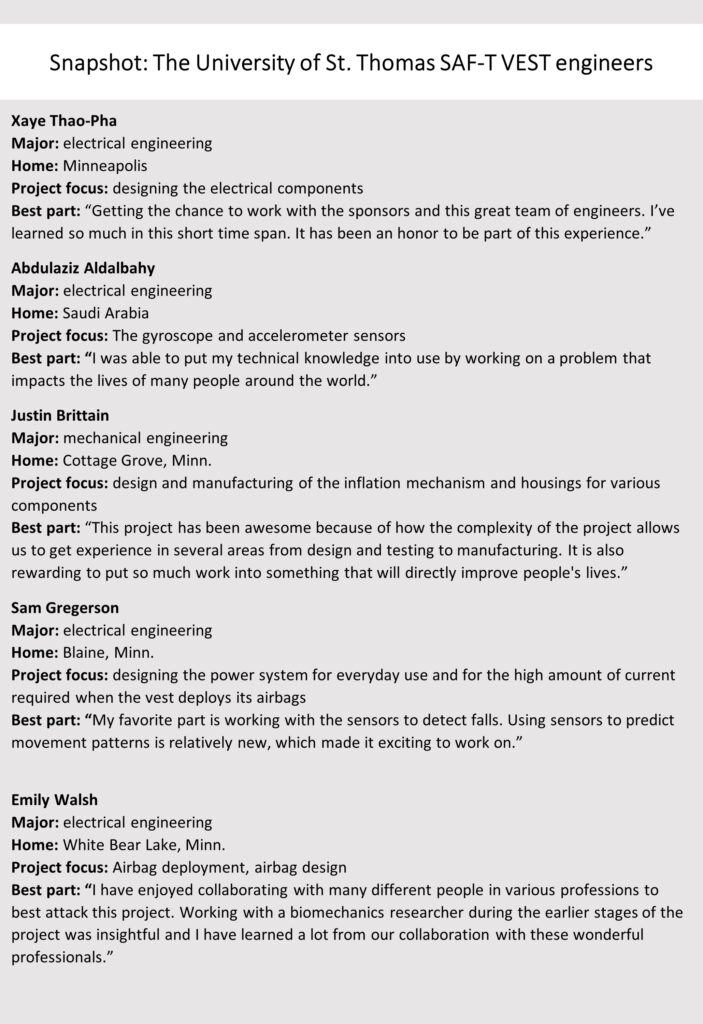 What's next
The engineers are building the start-up's first-ever prototype, suitable for testing and generating critical data. The company plans to use the prototype to attract private investors or to qualify for a federal research grant. The SAF-T VEST protects fracture-prone areas of the body, including the hips, back, arms, neck and head. According to the CDC, at least one in four older adults falls each year. The average hospital cost for a fall injury is $30,000.
"Emily, Xaye, Abdulaziz, Justin and Sam are engaged in pioneering work that ultimately will help millions of older adults remain active longer in life while protecting their health and independence," Davenport said. "It is so exciting to track their progress and see the prototype evolve. Best of all—these are great people with bright futures ahead of them."
The Senior Design Clinic matches student teams with sponsoring companies with projects requiring engineering services. The students get real world engineering experience working with a client to achieve measurable results.
Sponsors like Davenport SAF-T Systems benefit by getting up to 1,000 hours of high caliber work on their projects, and an opportunity to build a connection with UST's emerging engineering program, faculty and students. The company still faces significant expenses as it prepares to make its pitch for angel investment and government research grants. [Learn how you can help Davenport SAF-T Systems, a pre-revenue early start-up, by making a donation.]
"What I enjoy most about the project is designing the electrical components that bring this device to life. I get to put what I've learned over the years into practice and it has been very satisfying," said Xaye Thao-Pha, a senior electrical engineering major.
Each year the School of Engineering has about 35 Senior Design Clinic teams made up of 130 graduating seniors.